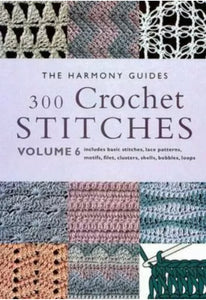 Description
The Harmony Guides are a series of highly practical, illustrated guides to hand knitting and crochet, explaining basic techniques from start to finish. This volume offers 300 stitches for crochet, and includes basic stitches, lace patterns, motifs, filet, clusters, shells, bobbles, and loops.


Editorial Reviews
From Library Journal
These two crochet stitch compendiums were first published as The Harmony Guide to Crochet Stitches and The Harmony Guide to 100s More Crochet Stitches. Stitch patterns are an excellent source of inspiration for crocheters wishing to put together their own individual designs, and these collections are among the best this reviewer has seen. 300 Crochet Stitches includes lace patterns, motifs, filet, clusters, shells, bobbles, and looped stitches, while 220 Crochet Stitches covers all-over patterns, edgings and trimmings, motifs, and Irish-style crochet. Full-color illustrations are superb, and stitch patterns include both diagrammed and written instructions. If only the publisher had matched the good-quality paper and printing with a strong binding; as with all the "Harmony Guides," these titles will require rebinding after a few circulations. Recommended for public libraries not owning the earlier edition.
Copyright 1999 Reed Business Information, Inc.
Product details
Publisher ‏ : ‎

Collins & Brown (January 1, 1999)

Language ‏ : ‎

English

Paperback ‏ : ‎

96 pages

ISBN-10 ‏ : ‎

1855856387

ISBN-13 ‏ : ‎

978-1855856387

Item Weight ‏ : ‎

13.6 ounces

Dimensions ‏ : ‎

8.5 x 0.25 x 11.75 inches